Safe and secure at all times
These days, healthcare institutions such as hospitals, clinics, care homes and GP surgeries need to be able to provide a comfortable and safe environment for their patients, visitors and employees, where everyone feels at ease and efficient medical treatment is ensured. This requires access solutions that will guarantee the seamless implementation of all processes in and around the building, and provide optimum support for staff as they provide medical care for their patients. The intelligent and elegant access solutions from Glutz achieve this across all areas of healthcare institutions. The ideal system reduces stress and effort, thereby giving employees more time to deal with the welfare and health of their patients.

Caring

Building

Investing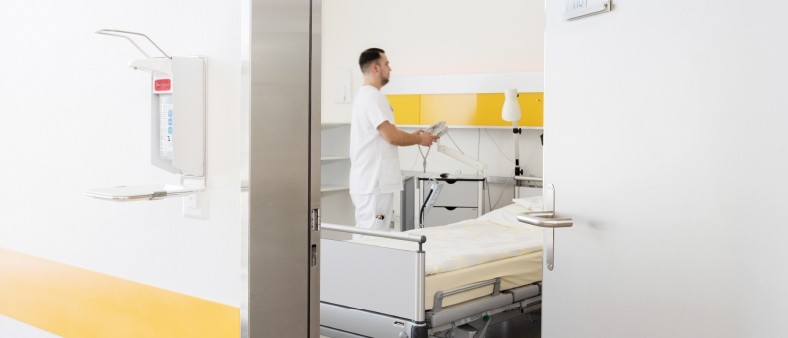 Caring
Patients, staff, visitors
The most important factors are the health and well-being of patients, and maintaining a high standard of treatment and care. Both patients and relatives should feel that they can trust the healthcare facility. Now, more than ever, companies need to balance the well-being of the people in their care with aspects such as economy and efficiency. In addition to this, they are faced with a whole raft of legal obligations. Operational processes need to be perfectly adapted, and hygiene and cleanliness in all areas guaranteed. Ensuring security – including in the event of an emergency – is also critical. All of these goals are supported by the best-in-class access solutions from Glutz.
Entrance area
With Glutz eAccess, patients and visitors benefit from touch-free access to the building and barrier-free movement through passages and doorways – even at particularly busy times. Thanks to the panic function, exiting the building safely and promptly is guaranteed, even in the event of an emergency.
Care provision
With controlled access rights, patients can feel comfortable and safe in their rooms at all times. The system protects their private space, as well as their personal possessions and valuable items. The Glutz electronic eAccess system allows patients with restricted mobility barrier-free access to all bathroom and toilet facilities. The sophisticated Glutz fittings with hygiene protection ensure increased levels of both hygiene and well-being.
Treatment
The intelligent access solutions from Glutz greatly facilitate seamless operational processes and the efficient treatment of patients. The system can also be relied on when a rapid exit is required. After all, staff should be able to apply themselves fully to the medical care of their patients.
Emergencies
In the event of an emergency, secure, automated access to the areas in use is especially important. Ultimately, staff must be able to act quickly and get to their patients without delay.
Sensitive areas
In sensitive and high-security areas, such as operating theatres, intensive care units and medicine cupboards, security and efficiency are paramount, which means the straightforward and accurate allocation and control of access rights are even more important.
Visitors
An aesthetically pleasing and friendly reception and visitor area promotes trust and contributes considerably to the good reputation of a healthcare institution. This is where the Glutz intelligent access solutions, door and window fittings come in; their timeless design and hygiene protection don't just add security but also enhance the image of the institution.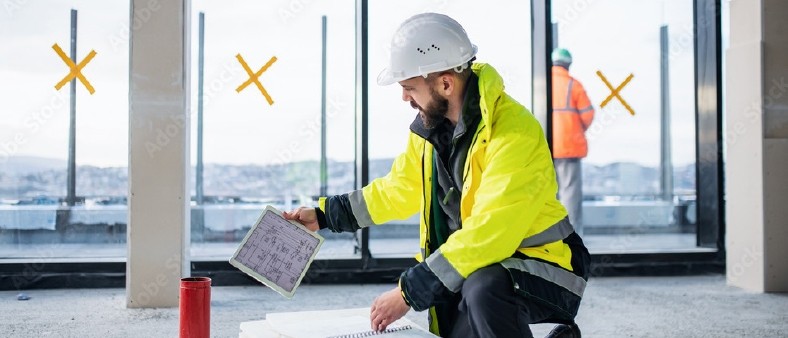 Building
Building owners, management companies, architects, planners, developers
Drawing on its extensive experience and expertise in healthcare institutions, Glutz helps its customers develop and implement operational concepts. It does so by providing innovative, long-lasting and best-in-class access solutions. These solutions contribute enormously to secure and efficient conduct of operational processes, as well as to the well-being of patients and staff. It is worthwhile to seek advice from Glutz early on in the planning stages of your building project.
Security for patients and staff
Swift admission procedures and rapid intervention when treating patients are the day-to-day business of healthcare institutions. Operational processes and security measures therefore need to be suitably smooth. Glutz has developed security concepts and solutions specifically for the healthcare sector. The foundation is the eAccess intelligent access system, which works in harmony with other Glutz products and services, and has already proven its worth in practice. It guarantees process security and streamlined operations, even in emergency situations. It also protects sensitive and high-security areas, such as operating theatres and medicine cupboards, from unauthorised access. In the event of an emergency, Glutz locks with panic function secure escape routes, so people can exit the building swiftly and in an orderly fashion.
Management
We work with you to identify the management and working processes within the healthcare institution in order to be able to support them in all areas using Glutz eAccess solutions. This way, access to the entire building is managed and secured, and work processes are simplified in order to make it easier for staff to get on with their job. This means they have more time to care for patients and look out for their well-being.
Intelligent, elegant technology
When it comes to technical services, the security and regulation of access rights to the building take top priority. Close collaboration between those responsible for technology and for operations is therefore hugely important to Glutz. The innovative and easy-to-operate security solutions from Glutz use state-of-the-art technology and are specifically tailored to the requirements of healthcare institutions. Starting with the planning and development of the access solutions, we create the best conditions for efficient use and faultless operation. When we've finished, technical services have, in Glutz eAccess, an intelligent access system that fully supports them in their work and ensures the security and convenience of the entire building.
Design and harmony
Glutz offers solutions to suit the architecture and design of every healthcare institution. This helps create an environment in which staff and patients feel at ease. We manufacture our products to the highest standards of design, value, functionality, ease of use and durability. What sets the comprehensive security and convenience solution from Glutz apart is the perfect coherence of our systems, products and services.
Hygiene and infection control
With Glutz security and convenience solutions, the risk of infection and transmission can also be reduced: the elegant and high-quality range of handles is supplied with an anti-bacterial coating. Automated door solutions also allow touch- and barrier-free access to buildings and rooms.
Barrier-free movement
Automated door systems equipped with Glutz smart fittings bring convenience and freedom of movement, making barrier-free movement around the building possible and facilitating access to essential spaces such as reception, waiting rooms and sanitary facilities.
Securing escape routes and panic functions
Protecting people's lives is the main priority, especially in an emergency situation. That's why there is a legal obligation for clients and operators to provide escape routes in healthcare institutions. It is therefore essential that a full emergency concept is included in the planning of such facilities. Glutz supports its customers in the planning and implementation of escape routes, emergency doors and fire-safety measures that comply with relevant guidelines and protect patients and staff in the event of an emergency. The Glutz MINT range of locks is equipped with various functions for exactly these cases (panic function B, D and E, C or escape) so that people can leave the building safely.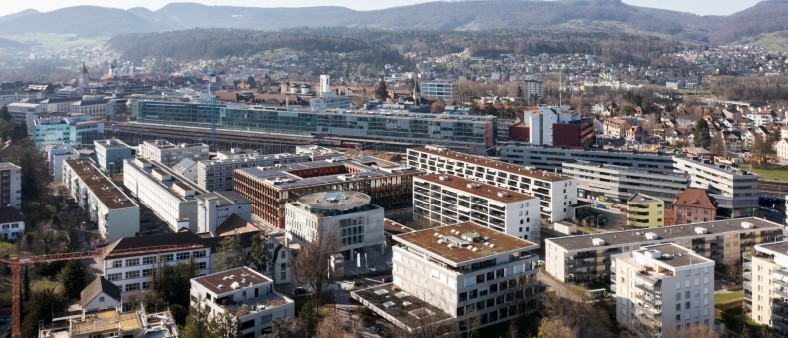 Investing
Clients, authorities, management teams
Our goal is to make the operation of healthcare institutions easier and safer. That's why we offer our customers best-in-class security and convenience solutions that can be adapted to changing requirements – for example in connection with the design of different zones or with operational processes. These adaptations mean staff have more time to look after their patients and ensure their care and well-being. The value and durability of our products makes your investment in Glutz security solutions more worthwhile, more future-proof and more beneficial. All of this contributes to the good reputation of your healthcare institution.
Investing in value creation
Invest in Swiss quality, in long-lasting value for your healthcare facility and, therefore, in the value of your investment. Because innovation and value creation have been part of the DNA of the Glutz family business for more than 160 years. The local development, production and service organisation offered by Glutz guarantee the operational safety of Glutz-built systems and products – for example, updates and adjustments are quick and easy to apply. The same fittings can be re-ordered, even after many years. Maintenance and support are ensured, thanks to our partners in your area.
Investing in security
The high-quality and future-proof access solutions from Glutz can be integrated into the interfaces of the primary digital and operational infrastructure of the healthcare institution in a simple and customised way. They support the security of your operation and of all processes that serve the health and well-being of patients.
Investing in economy
The value and sustainability of Glutz access solutions help optimise the efficiency and security of operational processes, reduce effort and costs, and balance everything that affects the well-being of patients.
Consequently, by using Glutz access solutions, you are ensuring your investment in the healthcare institution is worthwhile and durable.