Your access to security, freedom and an easier life
The needs we have regarding how we live change over time. Our requirements when it comes to security, comfort and hygiene are constantly increasing. Innovative electronic access solutions, combined with elegant, high-quality fittings made from stainless steel, match these requirements perfectly. They help you feel safe within your own home, allowing you to enjoy greater comfort and freedom. Using an electronic device, you manage, control and update access options in real time – and you can do this from home or while out and about. Whether it's a front door, individual rooms or a parcel locker – the solutions offered by Glutz are flexible, simple and secure. They are easy to program and can be tailored to the individual requirements of residents. Naturally, this also applies to access options for external parties. Glutz systems provide you with more security, freedom and an easier life.

Living

Building

Investing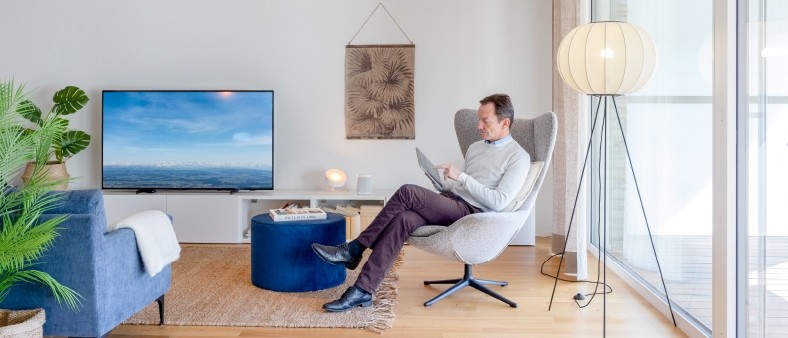 With access solutions from Glutz, you enjoy greater security and comfort within your own four walls. The intelligent electronic Glutz access system eAccess also gives you more freedom and independence by allowing you to manage and control your front door, garage door, letterbox – and more – effortlessly.
Entrance area
Multipoint locking devices and electronically regulated access controls bring greater security to your building. They are easy to operate and allow you to manage – both in terms of time and individuals – access by other residents, visitors and external parties, such as tradespeople. Intelligent MINT locks, meanwhile, are able to prevent potentially dangerous situations, such as when dementia sufferers, small children or unsupervised pets leave the home. In an emergency, people can leave the building safely and promptly thanks to a fire-protection module and panic function.
Living area
The smart Glutz eAccess system gives you barrier-free and keyless access to your home. To complement this and the ambience of your home, Glutz has a large selection of elegant, high-quality handle ranges, which comply with relevant emergency and fire safety standards.
Common areas
Glutz eAccess products also allow for management and control of access to shared-use areas, such as cellars, bicycle storage or gym facilities.
Letterboxes
Your parcel locker can be seamlessly integrated into the Glutz access system, meaning your post and parcels are kept safe even when you are away from home.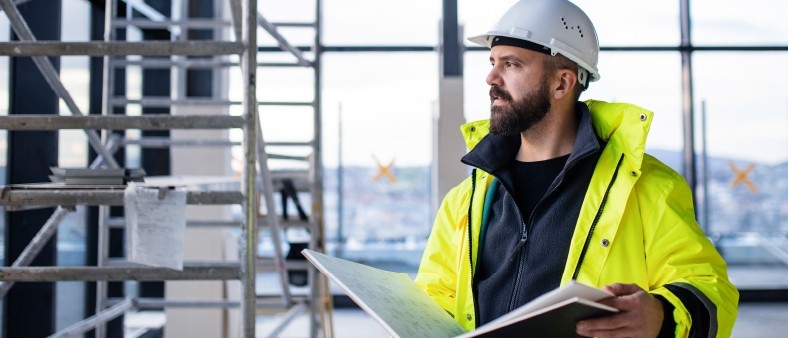 Building
Building owners, architects, planners, developers
Glutz access solutions are long-lasting, elegant, secure – and suitable for residential properties. They are based on the needs of residents and meet the requirements of building owners and management companies. Our systems, products and services work efficiently in combination to create solutions that offer great design freedom, excellent calculability and simple, secure implementation.
Planning
With extensive experience and expertise in residential properties, Glutz supports you with the planning and optimal application of our systems and products. Get in touch with the Glutz partner in your area or, for major projects, contact the Glutz property consulting service direct.
Comprehensive solution
Choosing an access solution from Glutz means you get an intelligent, comprehensive system from a single source. Clear in its design and aesthetics, elegant in its solution, workmanship and use. High-quality, robust stainless steel works in perfect harmony with all our systems, products and services, meaning our access solutions offer you the highest possible quality and benefit.
Security
Even if a key or badge gets lost, the security of residents is guaranteed by simply setting up new permissions. Each of these is immediately communicated to all access points via the wireless network. This also prevents problems arising when tenants change.
Access controls
With the Glutz eAccess system, access to shared-use spaces – such as wellness areas or gym facilities – can also be easily managed and time-regulated. Thanks to easily monitored access permissions, tenants always have an overview of who has been where, when. Similarly, access to unauthorised people is denied.
Security doors
The Glutz range features the right lock and special solutions for every door. They offer protection from fire or break-ins and prevent tampering from outside.
Barrier-free movement
Glutz solutions enable touch-free access and barrier-free movement throughout the residential complex. Multipoint locking devices with Glutz eAccess systems and fire protection ensure the necessary security is maintained.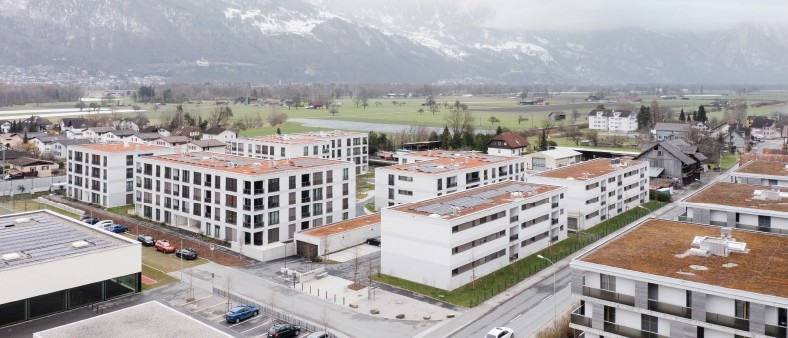 Investing
Building owners, general contractors, management companies
Our goal is to make people's lives easier and safer. That is why we offer our customers best-in-class security and convenience solutions, which can be tailored to changing requirements – for example, to create different living environments. This is how we give you more freedom and an easier life. The quality and durability of Glutz products make your investment in security solutions more worthwhile, more future-proof and more beneficial.
Investing in value creation
Glutz has a long tradition of innovation and value creation. Customised, high-quality solutions guarantee security for residents and protect their investment. Glutz locks stand out for their great durability. The same fittings can be ordered again, even years later. Maintenance and retrofitting are also guaranteed, thanks to our partners in your area.
Investing in design
Clear design aesthetics are a characteristic feature of Glutz access solutions. Our solutions are suitable for every residential building type, from traditional to modern. They are elegant in their workmanship and use. The materials (chiefly stainless steel) ensure strong and long-lasting quality. All components work together in perfect harmony.
Investing in convenience
Glutz access solutions are flexible – they are easy to integrate into building management systems and to adapt to new requirements. Their wireless networking keeps the work required to a minimum, meaning installation, including modifications, is swift and smooth. The Glutz eAccess solution allows each individual access point to be managed at the click of a mouse via a central key and access management system.
In this way, a building with Glutz access solutions is a worthwhile and durable investment.
Download
A new generation of locks